Tuesday, September 28, 2010
Monday, September 27, 2010
I had a crazy fun weekend this weekend. Seriously, it was great. I know it was great for a couple of reasons...the main one being that I am completely dragging today. :) In the midst of all that crazy and fun-ness, I did manage to get a new project done (well I started and finished it in about a 24 hour period. On little to no sleep. Sweett!!) I saw
this idea
on Ravelry and decide that I could try and re-create it for myself. So I did. And I LOVE this so very much!!!!!
(It's supposed to be an owl hat, however I did not put ears on it. And my sweet Dad said it looked like a character on Sesame Street. Whatever Dad--it's cute. So there).
So of course, I needed to find the cutest baby in all the land to be my baby model. That part was easy. Meet Grayden...my new little love. (Actually this was the first time I got to meet this sweet little ginger baby too.) Grady's parents are two of my very dear friends, Jason and Laura. Grady's got two older brothers who also hold a special place in my heart...Graham and Gibson. Grady was born a few months ago, but because J and Laura live a few hours away, this was the first time I got to meet him!! I'm head over heels for this little guy...and who wouldn't be?? Look at that sweet face!!
Or this sour.....eeerrr, I mean sweet face!! :)
Check it out here...I'm linking this bad boy up to the following:
a border="0" href="http://firefliesandjellybeans.blogspot.com/search/label/Show%20Off%20Your%20Stuff%20Party" target="_blank">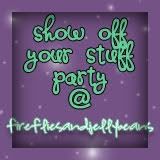 readmore»»
Friday, September 24, 2010
Wednesday, September 22, 2010
Tuesday, September 14, 2010
Monday, September 13, 2010
Friday, September 10, 2010
Thursday, September 9, 2010
Wednesday, September 8, 2010
Thursday, September 2, 2010